Transition to Learn
Features only available in FrogLearn
Features only available in FrogLearn
Due to the nature of hybrid set ups, there are several features deactivated in FrogLearn when running Frog3. These features become live once you have FrogLearn as a standalone system (either by removing Frog3 or installing FrogLearn in a VM environment)
Timetable
FrogLearn's timetable widget is demonstrably clearer with a more up-to-date look that the Frog3 equivalent. It also includes a search field, allowing teachers to search for anyone's timetable, students to search for teachers' and parents to toggle between their children.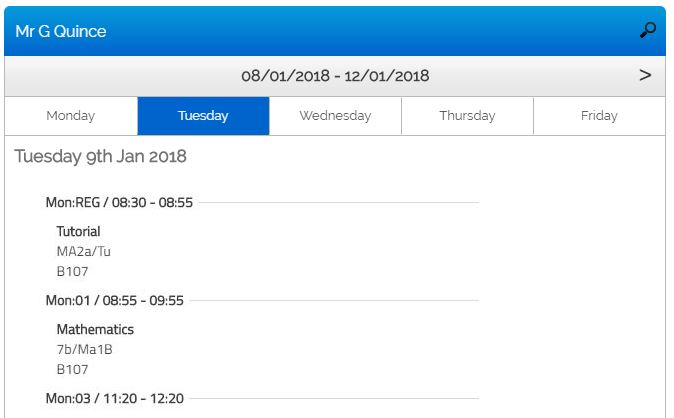 FrogParent
Frog3 PEP's equivalent in FrogLearn is called FrogParent. This add-on features:
FrogParent Manager - An application allowing you to customise what information is published to parents
Attendance widgets - Two widgets to show registration and lesson attendance
Behaviour widgets - Behaviour Totals shows the cummulative positive and negative behaviour points. Behaviour Summary shows summaries of individual behaviour reports. This widget can be set to display positive, negative or both types of reports, and details can be set to display or not.
Attainment Table widget - A flexible widget which can show you specific aspects from your reports
Linked Documents widget - Save time and money by having Frog host your school reports instead of printing and sending.
Select User widget - A useful additional widget not just for parents, Select User works with the Parent widgets to return details of a specific students, very handy for teachers.
Select Date widget - Inclusion of this widget on a page will return results to the Parent widgets within the specified dates.

---
Users App
Many of the features apparently missing from the Users app when running Frog3/FrogLearn become activated when you switch off Frog3:
Imported Users can be edited
MIS links can be transferred
Authentication type can be set
etc...
In short, everything for users you are used to doing in Frog3's toolkit is possible in FrogLearn.
My Classes listed when setting assignments
A teacher's classes as listed in the Assignment wizard when setting work, so they don't have to search for and know their class codes.
Groups and Policies
In Frog3's toolikit, individual roles could be assigned using the Roles section, this has been replaced by the Groups and Polcies application. With FrogLearn-only this section is expanded to have more options and abilities.
Shared Folders
The Web Files brick is a popular feature of Frog3 and it's functionality is almost identical in FrogLearn with the Shared Folder widget. This is available to both Frog3-FrogLearn schools and FrogLearn-only schools, but is often overlooked, so we're mentioning it here.
---
Third-Party integration

FrogLearn integrates with a number of other web systems, including but not limited to:
Google
Office365
Britannica
ClickView
Eclipse MLS
GCSEPod
Planet eStream
RoomBookingSystems
Vivo
Most integrations require assistance from our Support Team - please contact the Service Desk on 01422 395939
---