The journey and the benefits
Moving from Frog3 can appear be a daunting task, but many schools have successfully transitioned and are enjoying the benefits of FrogLearn.

Remember - you are not alone - please contact Frog to let us help! Call us on 01422 250800 and speak to a member of the team who can help walk you through the process.
Features available only in FrogLearn
A list of all the things you get when you turn off Frog3

---
Technical Information
Before transitioning please read the important information on the link below that relates to the hosting, switch over and third-party integration in FrogLearn.

First steps
How do you plan an entire structure for your new VLE?
With a login to our example platform Concept Demo you can browse around one approach that you could take. Please contact us on 01422 250800 and we will create a login for you!
Did you know...?
We can install a 'clean' version of Concept-Demo on your VLE for you, we call it Frog-in-a-box and it provides a starting point and inspiration.
We also have a number of pre-built sites you can install via the FrogStore
Planning your journey - the key stages...
The transition process can be demonstrated using the following diagram that identifies the key stages of the process...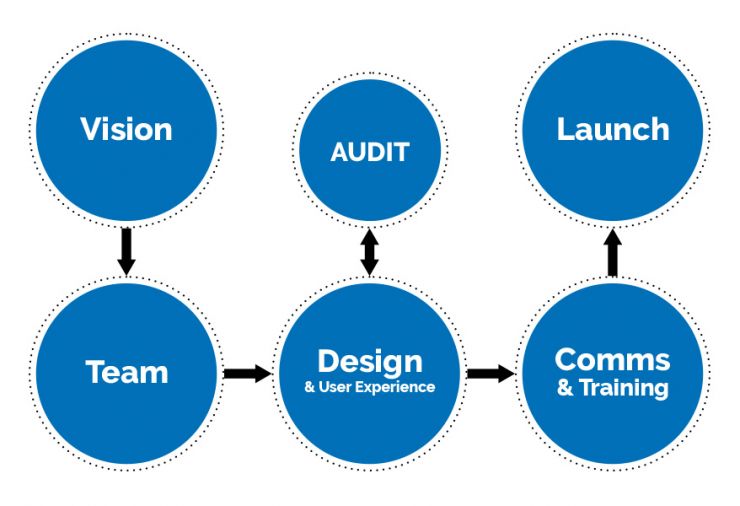 Vision
Identify key areas in your School Improvement/Development Plan that Frog can complement to help you achieve success.

Examples:
Homework/home learning strategy
Independent learning
Flipped learning
Parental engagement
Assessment for Learning

Create a Vision Statement (.docx)
---
Team
Identify stakeholders in each of the following areas:
Leadership
Teaching and Learning
Technical
Student engagement

See Suggested roles.
---
Audit
Using your school's Vision, look at your existing resources and decide whether they are inline with this Vision and the changes in the curriculum.

Take a look at Frog's prebuilt structures and if they can save your time. Did you know if you are moving from Frog3 to FrogLearn, we can help extract your files (DOCX, XLSX, PPTX etc...) from Frog3? Contact your SRM for more details.
Please discuss details with your network manager as to how you are going to run FrogLearn.
---
Design & UX
If you are looking to rebrand or update your platform, much of this you can do yourself, however, if you would prefer Frog's professional Creative Studio can discuss your requirements.

Think about how your users will interact with your platform. Signposts, quick links, dashboards, structures, resources and how they align with your school's Vision
---
Comms & Training
Who are you training and what are you training them about based on your Vision. Use your implementation plan to assist you on setting your milestones.

View an Example Implementation Document

How are you communicating this across the school, if you need support with your Health Check, Vision and Launch our Education Consultants can help.
There is continuing training support available on here on FrogCommunity, alternatively we offer on-site, bespoke training services.
---
Launch
Based on the milestones in your Implementation Plan.
---