Sharing on the Web
Frog sites can be set to allow visitors access without them needing a Frog login. We call this setting Public on the Web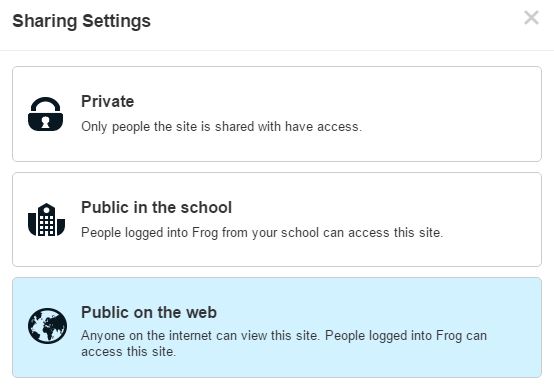 (Follow the steps in Simple Sharing to access the screen above)
Setting a custom web address
By default, FrogLearn provides you with a unique, but complex web address for your site. You can edit this to something a little more readable.
Click the Edit link next to the web address at the bottom of the panel

The section you can change will highlight. As you type, FrogLearn will search its database to ensure no one else is already using that address.
When you're ready, click Done

Notes
Public on the web can be a useful method for demonstrating your students work. As a teacher, you can select student Frog sites which you wish to share and set them to be public. By changing the web address to be readable, these sites can be included in handouts, posters etc...
---
---