Interactive Homework Reporting
Graham Thorpe shares a prototype for advanced assignment analytics
Interactive Homework Reporting
I've been looking at a better way of presenting the data in Assignment Monitor to allow more intuitive and powerful homework/assignment reporting. What I've been aiming for is to provide an easy way of drilling into the data to let users get to meaningful info quickly.
Exporting data
As part of this thinking, I've been using MS Excel to prototype the sort of things I was thinking of doing. As a result, I ended up with a spreadsheet that takes a CSV export from Assignment Monitor, and lets you query the data in some interesting ways. Regardless of how the homework reporting project pans out, it strikes me that this sort of spreadsheet may be useful to schools now.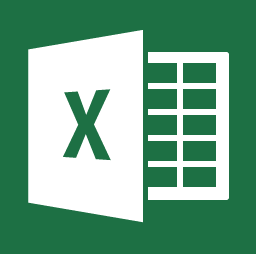 Homework Frequency Interactive Report Prototype.xlsx
Getting started
In FrogLearn, go to Assignment Monitor, choose the ALL tab, and export all the assignments to CSV.
Open the CSV in Excel
If your CSV contains a column F without a heading and very little data, remove it

Your columns should now be:

Assignment Name, Subject Name, Issue Date, Due Date, Teacher Name, Recipients, Submitted Fraction

Select Columns A-G and copy them.
Open the Reporting Spreadsheet, and go to the 'Homework Data' Tab
Select columns A-G and paste in the CSV data (be careful not to do anything to column H - this column is a formula that works out what week commencing the assignment was issued in)
Click on the Homework Frequency by Subject tab

In the Ribbon toolbar, click on PivotTable Tools > Analyse and click Refresh

Click on the Dashboard tab

Choose some criteria from the slicers on the right - the rest of the data will automatically filter to reflect your choices.
For more detail, click on the Homework Frequency by Teacher|Subject|Class tabs
If you want to have a play with the sheet with our data, feel free - the data is a bit messy (especially in for the recipients) because it's been pulled from our temp environment, so there's a lot of quick and dirty stuff in there.
A quick worked example to show how it could work: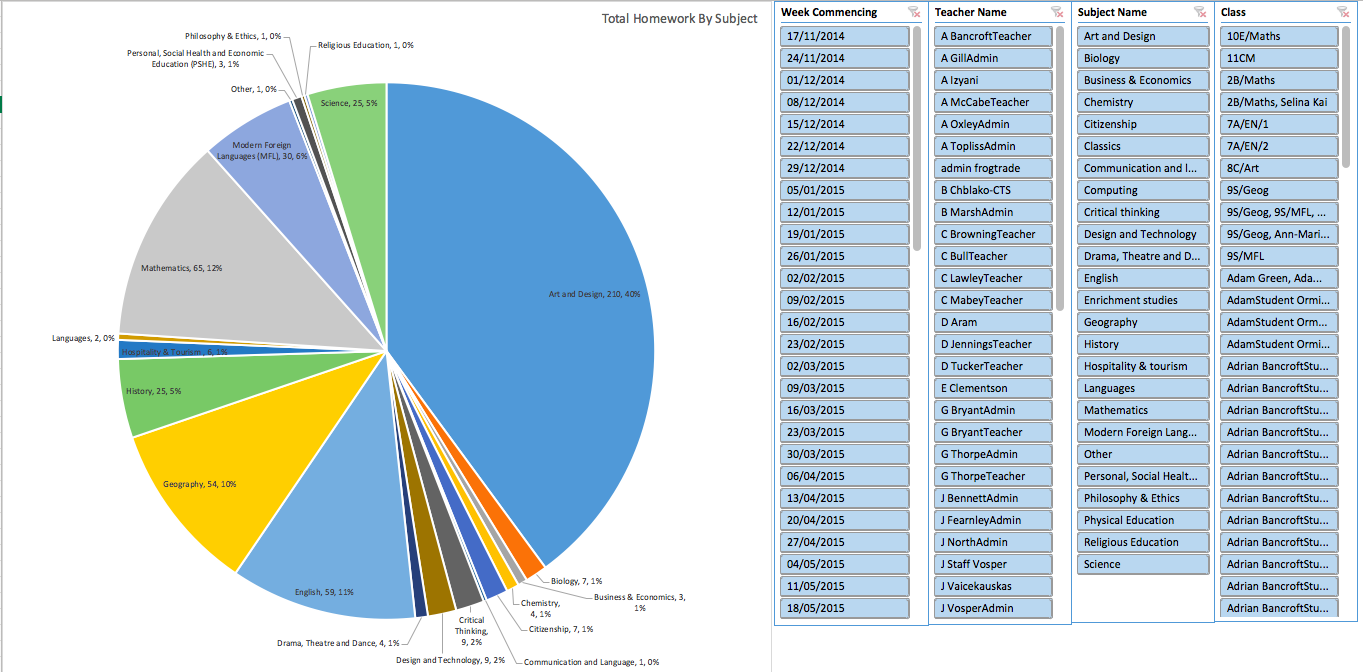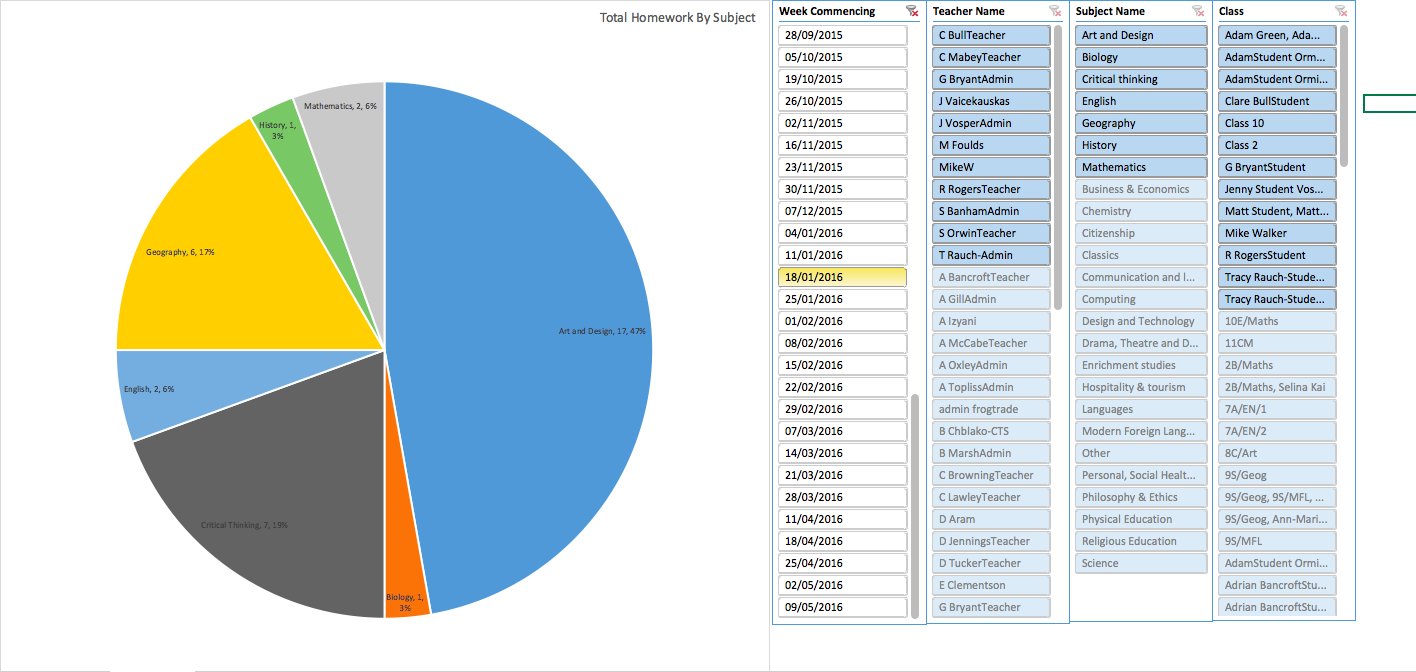 Say we had a special 'Homework Week' in January where everyone was encouraged to set homework. I'd now like to see what effect that had. the week was w/c 18 Jan 2016 - so I scroll down the week commencing column and click on 18/10/2016.
I can immediately see which teachers set homework in that week, in what subjects and to what classes. If I want to drill down a bit more, I can. So I click on R RogersTecher and can see that she set homework in 4 subjects to 2 classes.
I can now click on the Homework Frequency by Teacher tab to see how many homeworks Rachel set. The homework frequency by Subject further breaks them down into subject areas. If I had more than one teacher selected , I can expand the subject to show which teachers were setting homework for that subject.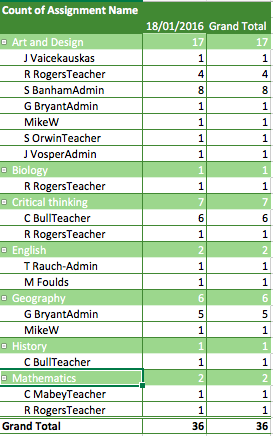 I'm happy to take any feedback - we are looking at turning this into an app, and as well as the prototype funtionality, we are considering:
Cool UI to make drilling down into the data even easier than the prototype
Ability to save predefined searches
Export to CSV, Print to PDF
Link to Assignment monitor, so you get a complete end to end journey ending up looking at the actual assignment(s)
I've not spent a huge amount of time tidying up the sheet - and as it's not part of the main platform, so common sense applies. You use at your own risk and we make no warranty that if is fit for any purpose you put it to. But it is pretty cool.
Any problems, pop a message on the forum, but please don't ring Support about it.
Let us know what do you think?
---