Please watch the video below to learn more about this functionality:
As part of the phased deeper integration of Office 365, administrators will have the ability to configure their Outlook 365 mail domain within the Frog platform. This will allow users upon selecting the Outlook 365application to access their mail via single sign on.
Note - For single sign on between the Frog platform and the school Office 365 instance, implemnetation of ADFS is required. For more informationon the ADFS implementation please contac the Service Desk on 01422 395939 or servicedesk@frogeducation.com.

How-To

Administrators can configure their Outlook 365 mail domain by navigating to the Frog Head > System Preferences. There will be a new option listed called Office 365. When this selected the administrator will be asked to enter in the URL used to access their Outlook 365 mail instance. Once entered click on the Updatebutton to save the changes.
Note - Schools with ADFS configured in Frog and Office 365, it is recommended that the URL format below is used allowing single sign on to occur successfully when the Outlook 365 application is launched. Simply replace the domain frogosdev.co.uk with your school Office 365 mail instance.
https://outlook.office365.com/owa/?exsvurl=1&cmd=contents&realm=frogosdev.co.uk


Once the Outlook 365 mail domain has been configured in System Preferences, the users will be able to access their mail by navigating to FrogDrive > Applications and selecting the Outlook 365 application.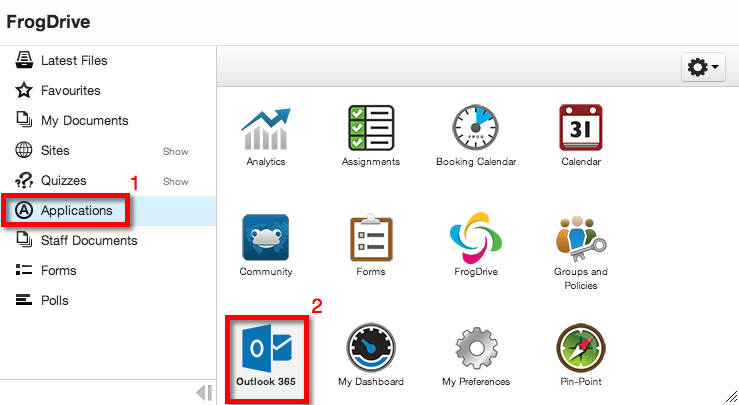 Tutorials in this series...
Quicklinks

---