PRESENTER: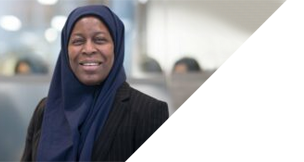 KEYNOTE PRESENTATION
Positives of distance learning - Tales of inspiration from educators
PRESENTATION TIME | 10.30AM
Watch presentation
Bukky has worked in education for over two decades and teaches secondary sciences to A level. She has undertaken a number of leadership roles within mainstream and special schools, centring around professional development programmes, quality first teaching and learning and effective implementations of Educational Technology.
As part of her commitment to increase diverse leadership within education, Bukky participates with a number of initiatives including WomenEd and BAMEed. She is a London Regional Leader for WomenEd and is registered as a leadership coach as part of a pilot programme run by the Department for Education.
Bukky's keenness for education and the impact that educators can make is reflected in the presentations that she delivers at local and national levels. Furthermore, Bukky supports the development of educators at all levels and promotes projects that help colleagues to maintain their well-being.