Engaging students by giving them their own space

Pimlico Academy is a new school, completed in 2011. The facilities are impressive, and include a large auditorium, drama studios, sports hall, gym, laboratories for science, design and technology suites, music studios, a full-size football pitch, netball courts and a climbing wall. Students also have access to excellent IT facilities.
Aimée Dronfield, Pastoral and Inclusion Administrator
"Fun and Vibrant"
"When I heard about the release of the ePortfolios it was something that I thought would be very interesting to use, but not being a class teacher myself I had to have a think about how this might look and work in a class setting. Happily not long after the announcement of the ePortfolios, the Drama department got in touch with me to see if there was a way that students could keep a blog (or similar) through FrogLearn, rather than them using an exercise book. Being a mostly practical subject, they wanted a much more fun a vibrant way for students to record their written work. It didn't take long for ideas to start to come together to put this in to place."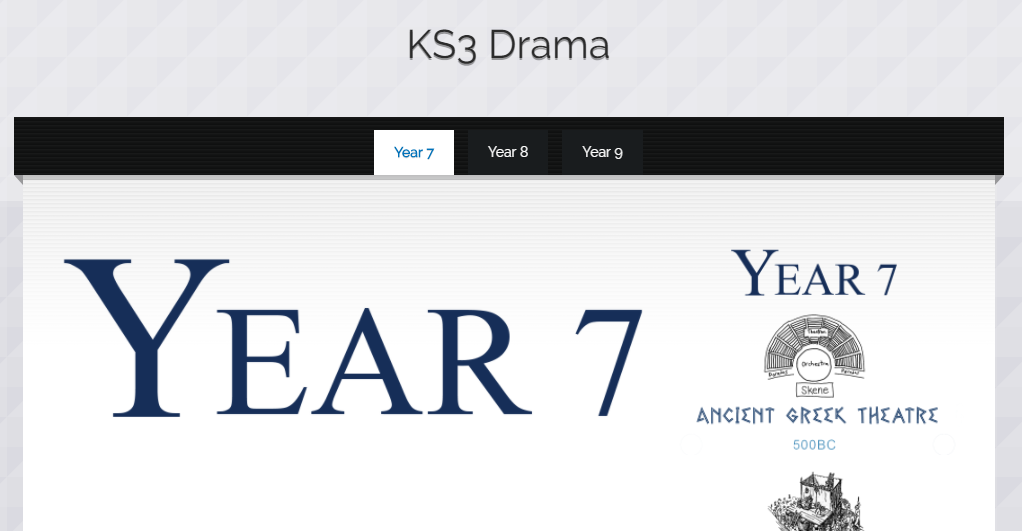 Pimlico's Drama Department
Revamping
"We started off with a revamp of the Drama KS3 site on the platform to give everything an overhaul, and we included a site timeline to add photographs from the whole department, whether that be whole school performances or sharing great work across the subject. Then putting the ePortfolios together we decided to have this main site timeline as a feed on the first page of the individual portfolios, almost like social media for the department, and then we added in two tabs for students as individuals."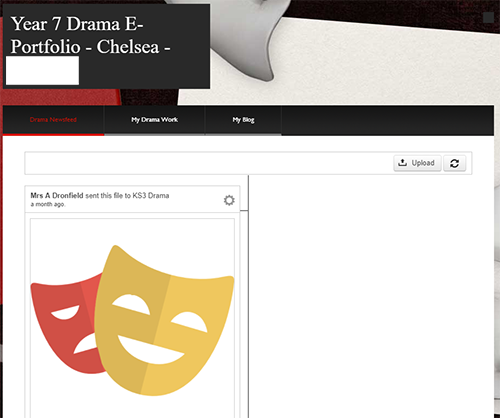 A student's ePortfolio, the timeline is nested from the Drama department's site
"Starting off quite simply, the first tab has a Site Timeline, and a File Drop widget. This allows students to upload pictures or photos of things they have been learning about in their practical lessons, as well giving them a space to share other drama related activities they do outside school, like a visit to the theatre."
"The File Drop allows for if their teacher asks them to word process an extended piece of writing; they can have it organised and accessible anywhere with an internet connection, and their teacher can take a look without having to collect in books or papers."
Forum as a blog
"On the second tab we incorporated a Forum widget. This acts as a blog feature, and teachers so far have finished the end of a practical lesson asking students to log on and write about the performance they have just done, or techniques they have been learning about. I'm sure this will all develop more as the term goes on."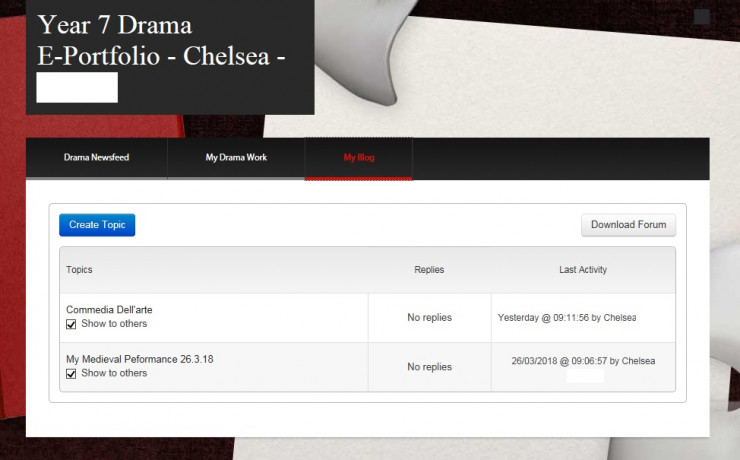 A students' ePortfolio using the Forum widget as a blogging tool
Roll out
"To roll out the ePortfolios we decided to start small, and then work up. We thought about who would be the best year group to trial first and as the three teachers from the department I was working with all teach a different Year 7 class, we decided they would be the ones."
"After creating the ePortfolios I went into the classes as a guest to support the class teacher with the launch. We explained the features and what they would be able to do, and how we would like them to use their portfolios going forwards. I have then popped back in for a few minutes here and there to see how they are getting on which has been lovely."
"An engaging way to share"
"The students have responded very well to their ePortfolios. They seem to like that it doesn't feel as much like class work when they have such an engaging way to share what they have learnt."
"For the time being we have not allowed them to see each other's ePortfolios, as we wanted to monitor them for a little bit first, but we are thinking of making this change towards the end of the year as the students were excited at the idea of eventually being able to 'like' their friends' posts and pictures. As they know they are only one of three classes in the whole school using ePortfolios at the moment, they also feel very privileged."
"Two of the classes we have launched with are Set 4 students, and whilst the teachers were a little nervous about how they might get on with something like this, I think they made great progress; writing posts and finding pictures they wanted to share."
Impact
"They haven't been launched for too long so it's difficult to measure overall impact, but I have a feeling that they will go from strength to strength, we will be able to learn what works well for future ePortfolios, and we are taking these to all staff briefing in mid-May so hopefully will encourage other departments to take an interest as well. Myself and the Head of Drama are already talking about next year."
Case Studies Latest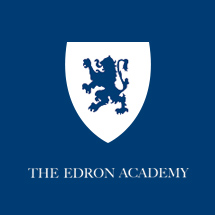 The Edron Academy, Mexico City created a virtual school, giving teachers, students and parents a powerful platform called Edron Home Learning.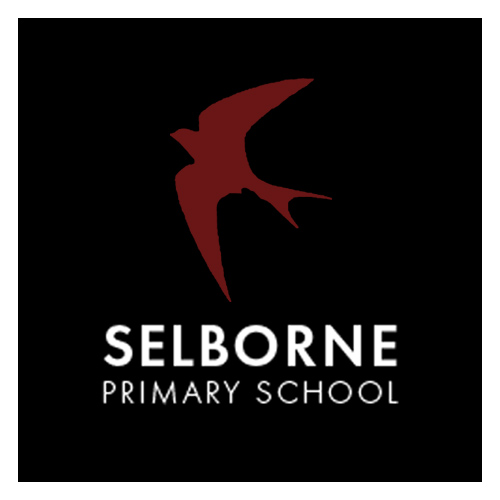 Selborne Primary are using FrogLearn to improve school-wide communication and to develop a paper-free system.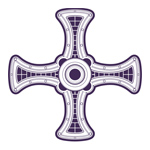 Having taken up a free trial of FrogPlay in March 2020, we spoke with the school to see how they have been getting on.
Quicklinks

BLOGS

---