At its heart is a powerful and comprehensive environment that connects many areas of school life into a single digital ecosystem. Frog contains a wide array of practical capabilities that are delivered through a range of modules.
What makes

Frog

Learn different?
FrogLearn is much more than a VLE or Learning Platform. It is a Learning Management System that operates from the heart of your school, centralising administration and pulling everything into one place.
Making everyday tasks such sharing information and resources easier and more manageable. We like to think of Frog Learn as your Educational Operating System. Frog Learn is for everyone, making life easier, reducing workload and providing a platform that you can build on over time, at your pace.

Monitor
Monitor your school Home Learning policy by having full visibility on all homework and assignments set and see what's been completed.

Centralise
Centralise your digital footprint with a range of easily accessible dashboards, including forms, polls, documents, booking calendars, forums and much more.

Empower
Provide all subjects with the ability to build and publish learning resources online through simple to construct resource sites.

Engage
Connect parents to their child's school life - providing visibility on their work, deadlines and even Attendance, Behaviour & Attainment*
* Requires FrogParent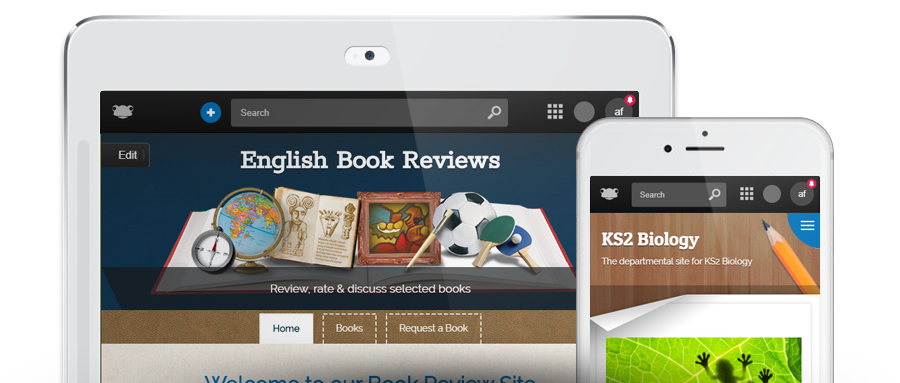 Building sites for everything...
Sites are the foundation of Frog's Learning Management System. You can use them to build anything from subject areas to after school clubs. Think of sites as easy to build web pages to which you can add any content you want.
Designed for mobile and tablet devices as well as traditional desktops, you can create lesson resources, publish school notices, timetables, homework and extra-curricular activities using the simple drag and drop interface.
Reduce teacher workload!

Reducing teachers' workload is an essential part of the Frog ethos - we've made it even so easy to get started by providing lots of pre-built themes and templates.

To drive usage and help teachers save time our FrogStore provides access to hundreds of sites created and shared by our school community. Integration with Google and OneDrive makes it even easier to utilise and share existing resources and enhances Frog's home learning capabilities.

Real Parental Engagement!

Engage with parents, connecting them to school life whilst providing visibility on their child's learning, attendance, behaviour and attainment information. Your parental engagement hub provides the gateway to better communication and improved links between school and home.
What's included with
Frog
Learn?
Click a module to find out more
Enable teachers, technical staff and even students to build their own applications, driving innovation within your school. The ability to code within Frog makes anything possible.
Share photos, audio and videos using mobile devices, quickly enabling the capture of evidence and supporting collaboration on school activities.
Give SLT and teachers the ability to monitor and check homework via date, subject, year group, pupil and teacher across the school.
Show students, parents and teachers exactly what homework is due each week along with the submission status.
Build anything from subject areas to parental and governor portals using Sites - easy to build web pages where you can add any content you want.
Check your students understanding with a wide range of question types. Tap into a rich question bank of over 250,000 curriculum mapped questions across many subject areas.
Quickly mark work and give rich contextualised feedback through Frog's simple online marking interface. From stickers and annotations to audio feedback, marking has never been so easy.
Provide different environments for specific groups of users and gain full control over how your platform looks and feels to your different stakeholders through simple to customise dashboards.
Frog's global search makes finding things easy and pain free. Through a single search you gain direct access into every area of the platform.
Showcase work, encourage dialogue and even organise collections of media through interactive timelines that can be shared with students, teachers and parents.
Engage with your key stakeholders, connecting them into everyday school life through a range of easy to use communication tools.
See our
Learning Management System

in action... Book a meeting with one of our team