Uploading & FrogSnap
Provided your students have contribution access (see Collaboration) you can arrange for them to submit files directly to your site.
File Drop widget
The File Drop widget allows users to upload files to a site either from their computer or from their FrogDrive without having to edit a site to do so.
Files can be uploaded by clicking the Upload button or FrogDrive button
When editing a page, the File Drop settings can determine if other students can see everyone's files or just their own.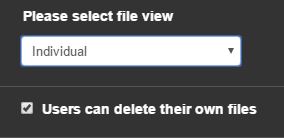 File Drop widget settings
FrogSnap
The FrogSnap app for Apple & Android mobile devices can upload photos directly to a site and the easiest way to display these is through the Site Timelines widget.
To find out more, see the guide Timelines, FrogSnap and Site Timelines
FrogSnap can also be used for students to submit their work via assignments. When assigning work, include a File Drop widget. Students will then see the assignment as an option when uploading images via FrogSnap.
---
---