Administering the Timeline
As an Administrator of a site, you are granted access to additional options ot help you administer your timelines.
Beside each media item uploaded you are able to click the cog icon at the top right. From here you are able to hide certain media items from the timeline, send a copy of this resource to another site or user, edit the description and tags on the media or delete it from the site entirely.
You are also able to view a site level timeline that will display every media resource uploaded to any timeline within this site. In order to access this click on the "Site" at the top left of the site then "Manage Timeline".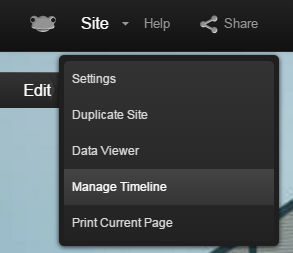 This will open a popup window displaying a timeline with every item present for you to action. At the top right of this window you are able to click a slider to ensure that users' comments must be approved first before other users will see them. Below this is also a "download comments" button that when clicked will download a CSV file to your local machine with every comment left against any timeline item.

When a user comments on a media item, a checkbox will be present beside the comment labelled "show to others". By default this will be ticket for other users to see. Only admins of the site can alter this setting. If the above checkbox in the Manage Timeline screen is set to "On" any new comments will need to be manually set/ticked for "show to others".

---
---