Timeline Tags
In the settings for the widget you are able to add "tags" by entering a tag word in the Tags field and clicking the Add.
Please Note: These tags are used to restrict the events that can be displayed on the timeline, e.g. if you are using a site tot ake photos of student groups on a school trip you may wish to add a tag of "group 1" into this timeline. This enables you to add a number of Site Timelines to a site and have different images appearing on different Site Timelines.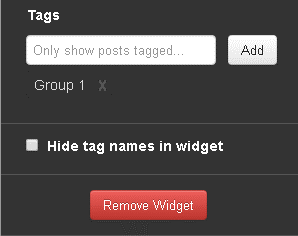 If the tags section is left blank the site timeline will show all photos uploaded to the site.
Once a tag is added it will appear below the tag field in the content tray and also appear on the page itself at the top of the widget when viewing the Site Timeline widget out of edit mode. Ticking the "Hide tag names in Widget" checkbox will not display any tags at the top of the widget when out of edit mode.
Please Note: If you give students permission to Contribute to your site then they will be able to upload their own photos, videos, audio files and documents to your site. It is also worth noting that if Parents have their own access to Frog in your school then they will also be able to see what their child has posted to your site and comment on their child's work.
---
---