Frog
LMS

helps build and manage knowledge

Knowledge
Sharing

Knowledge
Management

Training &
Assessment

Compliance
Training
Whether you need to make sure that your staff are fully up to date with statutory training, or you're building high impact training and motivational content to improve the performance and engagement of teams, Frog LMS can both significantly reduce costs and increase capability.
Over 20 years experience, 14 million active users. Multi-award winning.
User Experience

Frog LMS is easy-to-use, has a modern, engaging interface and everything is automatically formatted for tablets and mobile devices.
Our strength is personalisation, not just logos and colours, the entire interface can be changed. If you want to change anything, you can.
Think of Frog as an LMS builder!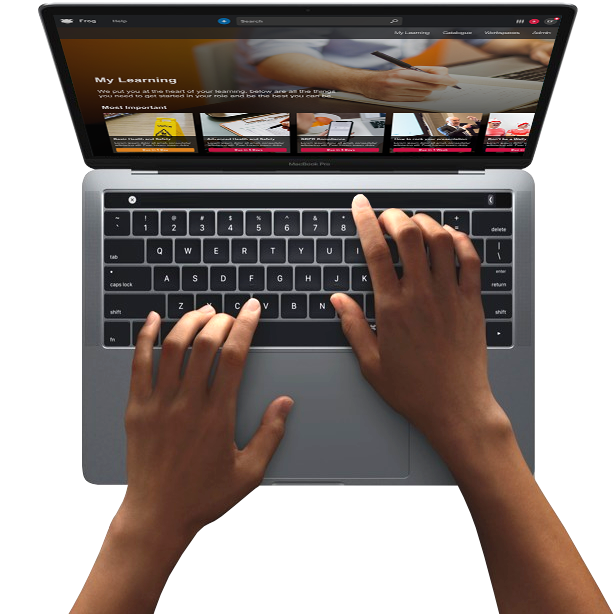 Powerful capabilities
Our feature rich content editor is without parallel!

Because Frog LMS is web-based you can have as many content editors as you wish, spreading the work load; but more importantly, enabling a model of shared learning, with teams building their own learning materials in workspaces to share amongst themselves. We also support SCORM, PDF, Video files.

Our quizzing, testing and assessment is also in a league of its own. You don't need to be limited to just multiple choice - with 8 different question types. Quizzing doesn't have to be just about testing, either; done the right way it can be used to reinforce learning, and to increase retention of information.

Training & Support
Not all training is done online, so we also support the management of face to face training, including registrations.

Everything else!
There's loads more, ranging from human approval processes to sophisticated workflows delivered with stupendous simplicity.
Deployment
Easy to setup, ready in minutes!
Of course, Frog is provided on the cloud, but not everyone wants it that way. We can also deploy in your headquarters, either as a VM or on its own dedicated server. Still available over the cloud, but with the security of being in your own network. We currently manage hundreds of servers world-wide this way.

CLOUD HOSTING

SERVER ON SITE

VM IMAGE